Confex has its own brochure make-up facility that allows members to create their own promotion brochure using their company logo.

Members can use this software to fully customise their brochures with their company logo and contact details. Confex can take care of all printing and deliver to your retail customers. It is easy to use and the Member is in total control.

e super saver - Using the special software, members can choose to create their own collection of promotions.


Caterer Savers - Foodservice members can create their own bespoke brochure featuring their own chosen promotions using the Caterer Savers template
Please contact Jess Douglas on 01608 652333 if you have any queries or would like to discuss any other printing requirements.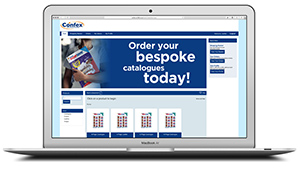 CENTRAL DISTRIBUTION
The CDC provides members with the ability to order in smaller quantities than would be possible direct with the Supplier. This helps their cash flow, stock planning and drives their business to greater return.