Confex is a unique wholesale buying group that negotiates in a wider range of product categories than any other buying group and offers 50 years of trading experience.
Prior to the inauguration of Confex, Julien Loffet owned and managed Standard Confectionery in Birmingham, employing over 100 staff. Having identified a need for a collaborative approach to wholesaling he went into partnership with Birmingham wholesaler, Sidney Lumley, to establish one of the first buying groups in the UK, Confex Ltd, in July 1972.
Together they planned to grow the group membership and develop business between wholesaler and supplier across all categories so that the independent wholesaler could gain the maximum advantage from being a member.
By the end of the 1980's there were 120 members, of which 32 are still members of Confex. The membership currently stands at 244. These members range from small van sales operators to multi-outlet franchises.
Mr Lumley retired in 1996 at which point Mr Loffet's daughter, Nicky White, joined Confex and has been working as Director for over 20 years.

The first office was based at Water Orton, near Birmingham. In 1999 Confex moved its head office to Chipping Norton, and then in September 2013, to modern, more spacious offices with better facilities in Moreton-in-Marsh, Gloucestershire.
Confex Central Distribution was inaugurated in 2006 and is headed up by James Loffet, son of Julien Loffet and Director of Confex.. The Central Distribution warehouse is strategically located in Pershore.
VIDEO: A Brief History of Confex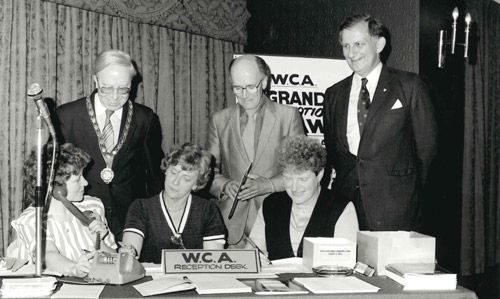 L-R: Ann Smith, Sidney Lumley (Head of W.C.A.), Jean Bellis, Julien Loffet, unknown, unknown
CENTRAL DISTRIBUTION
Central Distribution provides wholesalers with the ability to order in smaller quantities than would be possible direct with the Supplier. This helps their cash flow, stock planning and drives their business to greater return. Call 01451 821598 or click the find out more button.