Confex Trade Show 2015

This year's Confex Trade Show was held on Thursday 23rdApril at the Four Pillars Hotel & Conference Centre, Cotswold Water Park at South Cerney, following the Golf event and Awards Dinner with over 200 guests attending. The dinner is always a lively event with many presentations but finished with a Casino where Black Jack and Roulette tables were packed with speculators. More tables will be added next year as this proved a popular activity.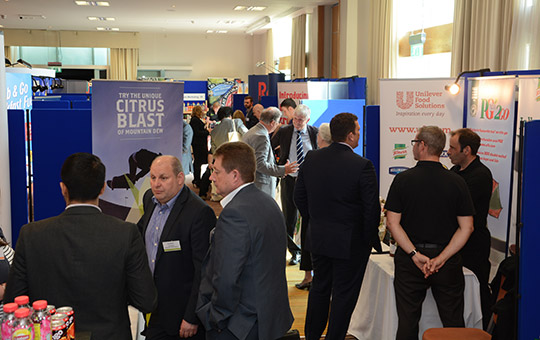 At the Trade Show the next day, over 70 suppliers represented a broad spectrum of product categories, from confectionery and drinks, to pasta from La Tua Pasta, supplier to the foodservice industry and Cotswold flour from FWP Matthews, a local and national flour supplier. Our Members were appreciative of the opportunity to see suppliers, secure good orders and generally enjoy a good day's trading.
Mohsin Bootwala of MB Distribution "likes to come to the Confex Trade Show primarily to meet Account Handlers face to face, but was pleased to enjoy some good pricing from some suppliers, such as Cott Beverages on Emerge, Yazoo and Danone TOF, as well as the Coca Cola core range."
Lee Edgar of Midland Chilled commented on an "excellent trade show". "We found the day extremely useful and the Confex team did a grand job in pulling together a great event."
Supplier of the Year 2014
(Retail) – Coca Cola Enterprises
(Foodservice) – Heinz Foodservice
As usual these are awarded for working beyond normal practices with Confex and its membership to make a significant difference.
Green Wholesaler Awards:
The overall winner of this year's Green Wholesaler Awards was Refreshment Systems of Bradford, whose efforts to reduce their carbon footprint were rewarded with the GWA Award 2015 trophy and a Carrera Hybrid Bicycle.
The Midland Food Group was awarded the winning trophy for Foodservice Wholesaler.
Confex would like to thank their Trade Show Sponsors:
Coca-Cola Enterprises
Britvic
Lucozade Ribena Suntory
Pepsico
Unilever Food Solutions
Taylors of Harrogate
Blu UK
CENTRAL DISTRIBUTION
The CDC provides members with the ability to order in smaller quantities than would be possible direct with the Supplier. This helps their cash flow, stock planning and drives their business to greater return.